Support Y-Not Radio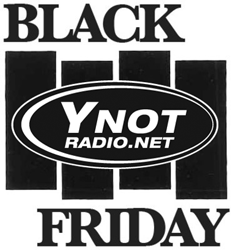 Help Y-Not Radio end the year in the black during our Black Friday sale. Donate to receive a t-shirt, CD, or download, and receive a bonus CD or download.



If you love Y-Not Radio, please consider making a donation to help with our operating costs. With new higher music royalty fees in effect, it now costs close to $1000 every month to stream music to your ears. To ensure that we can continue to to do that each and every day (and keep feeding the Bunker Cats), we're asking for your help. But we don't want you walking away empty-handed.


We have many new albums for you to choose from. Get a CD for a $20 donation or a digital download for $15 (see options below). One of your choices is the brand new Y-Not Sessions 2016 compilation, featuring 30 live recordings from some of our favorite sessions from last year.

Y-Not t-shirts are back in stock for $20 in either black or gray. Please specify your size and color from the pull down menu on the Paypal form.

Get a Y-Not Radio Sticker with anything that we ship to you! Or choose stickers on their own - 1 for $2.50 or 3 for $5. Stick 'em everywhere! Thank you for your support!
Or become a sustaining supporter by making a monthly donation.
Choose from the following (subject to available supply).
Please make sure to include your correct shipping address on the Paypal form and specify which CD you'd like.
Beck - Colors (Download)

Tegan and Sara Present The Con X: Covers (CD)

Bully - Losing (1 CD left)

Wolf Parade - Cry Cry Cry (CD)

Torres - Three Futures (CD)

Enter Shikari - The Spark (CD)

Death From Above - Outrage! Is Now (1 CD left)

LCD Soundsystem - American Dream (Download)

Arcade Fire - Everything Now (Download)

Japanese Breakfast - Soft Sounds From Another Planet (CD)

Waxahatchee - Out In The Storm (1 CD left)

HAIM - Something To Tell You (Download)

The Drums - Abysmal Thoughts (1 CD left)

Tigers Jaw - Spin (1 CD left)

Phoenix - Ti Amo (1 Download left)

Dan Auerbach - Waiting on a Song (CD)

Moby & The Void Pacific Choir - More Fast Songs About The Apocalypse (CD)

Blondie - Pollinator (CD)

(Sandy) Alex G - Rocket (CD)

Girlpool - Powerplant (CD)

Gorillaz - Humanz (1 CD left)

Chastity Belt - I Used to Spend So Much Time Alone (1 CD left)

Goldfrapp - Silver Eye (1 CD left)

Dirty Projectors - Dirty Projectors (1 CD left)

The Orwells - Terrible Human Beings (CD)

Allison Crutchfield - Tourist in This Town (CD)

Sleater-Kinney - Live In Paris (CD)

Dude York - Sincerely (CD)

The Regrettes - Feel Your Feelings Fool! (CD)

Cherry Glazerr - Apocalipstick (1 CD left)

Y-Not Sessions 2016 Compilation (Download)

Bat For Lashes - The Bride (1 CD left)

Justice - Woman (1 CD left)

Wild Beasts - Boy King (1 CD left)

Kristin Kontrol - X-Communicate (CD)

Y-Not Sessions 2015 Compilation (Download)

Y100Rocks.com 10th Anniversary Compilation (Download)

Y-Not Sessions 2014 Compilation (Download)

Y-Not Bunker Sessions 2013 Compilation (Download)

BARGAIN BIN
Mean Jeans - Tight New Dimension (Bargain Bin - $10)

Cullen Omori - New Misery (Bargain Bin - $10)

POP ETC - Souvenir (Bargain Bin - $10)

Ash - Kablammo! (Bargain Bin - $10)

Death By Unga Bunga - Tell Me Why EP (Bargain Bin - $10)

DMA'S - DMA'S EP (Bargain Bin - $10)

Carl Barat & The Jackals - Let It Reign (Bargain Bin - $10)

The Good Life - Everybody's Coming Down (Bargain Bin - $10)

The Elwins - Play For Keeps (Bargain Bin - $10)

Coldplay - Ghost Stories (Download - Bargain Bin - $10)