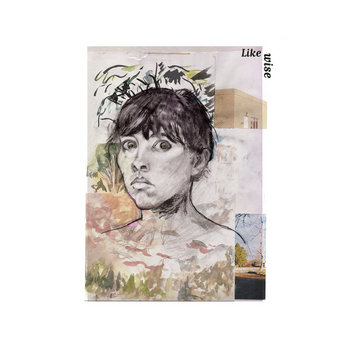 It is truly fun to witness an artist continue to discover themselves, it's one of the great rewards of being a fan of independent music. As Philadelphia natives here at
Y-Not Radio
, we have been so fortunate to see an A+ act in
Hop Along
become a success story within the local music scene and then gain a national following over the better part of the last decade. Hop Along vocalist-guitarist-songwriter
Frances Quinlan
, and her unique and powerful voice, has now stepped out on her own with
Likewise,
her first true solo effort. The album proves her star shines just as bright standing on her own.
On Likewise, Quinlan has enlisted the assistance of her bandmates, including guitarist Joe Reinhart for production and mixing. The album introduces new instruments to her sound, such as synthesizers and an autoharp. Both of these are first heard on lead single "Rare Thing," the first evidence of her added experimentation. A song based on a dream/nightmare involving her infant niece. it created anticipation for her mixing of these new sounds with her vocal style and writing. Many of the irregular beats, hooks, and expert lyricism that we are used to hearing from her remain as well. The result is an album that is just as colorful as any of the artwork Quinlan has used to highlight her musical work (including her self-portrait on the cover of Likewise).
"Your Reply" follows the tones from mid-2000's Spoon or even The Kooks, to the point where it feels nostalgic if you didn't know any better. Also introduced is a string arrangement with single taps of sleigh bells on "Detroit Lake." We have become accustomed to Quinlan's controlled scream in her previous work, and it would be easy to expect to hear that early and on Likewise, but it is not until "Went to LA" where she finally does let her voice rip in its song-ending chorus, "Heaven is a second (chance)." Up to that point, I wasn't sure that she would let loose like that, to the point where it was almost forgotten, but it is a well-timed moment listening to the album in full.
"Now That I'm Back" finds Quinlan exploring her own ability to compromise and measure her capacity for love, expressed in her closing suggestion, "We should try again to talk." In its waning moments, Quinlan puts both of her feet in the synthpop waters, a delightful turn of events. After playing around with these synths on most of the album to this point, it proves that Quinlan can truly do anything she wants.
Upon its announcement, Likewise was considered among the most anticipated albums of 2020, and I think it's safe to say that Quinlan has delivered on the excitement that built from that. We are lucky and privileged that she shares herself and her visions with the world. On Likewise, she continues to raise the bar in not just creativity, but also versatility and musical exploration.

Hear Frances Quinlan's recent acoustic Y-Not Session performance and interview On Demand.