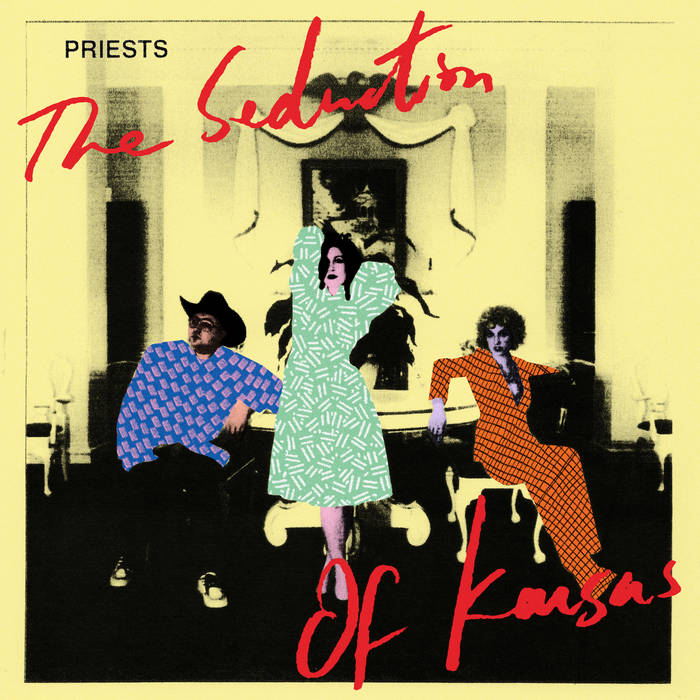 Priests
were never a band to offer comfort to their listeners. The D.C.-based band has always criticized society and made people second-guess "truths" that they've been fed. Their previous song topics included how America is not as great as the history books paint it, corporations hypnotize the public into mass consumption, and roles placed on women are a demeaning blight. With their second LP,
The Seduction of Kansas
, they continue to point a spotlight on hypocrisy and stir intellect and discussion.
Through a soundtrack of dark disco, the title track chronicles how politicians claim they know what's best for the state via
Katie Alice Greer
's seductive singing of "I'm the one who loves you." "Not Perceived" is a gloomy
Cure
-like critique that brings
Rockwell
's "Somebody's Watching Me" into today's 24-hour digital surveillance society. And "YouTube Sartre" is early-aughts emo-pop exploring the current attention-deficit culture that takes soundbites out of context to create false platforms.
The big difference on this album is the exploratory nature of the music. Disco, emo, and darker genres have never been a distinct part of their live show. Priests have always been a band whose energy and passion are best expressed in a damaged art-rock live setting. Greer's captivating sensuality and quaking anger can never be adequately transferred onto wax.
G.L. Jaguar
's punishing, loopy droning guitar is a sight as he thrashes around the stage but cannot be imagined on headphones. And the pounding yet organic drumming and vocals from
Daniele Daniele
pull the whole band together. The most representative moments come from "Jesus' Son" and "Control Freak," which could have fit on any of their early tapes and EPs.
Perhaps the reason for the musical expansion is due to the departure of long-time bassist
Taylor Mulitz
when he left to focus on his own project,
Flasher
. Priests were forced to change their whole songwriting process, and in turn, grew as a band. They learned to take bits and pieces that were individually brought to the table to work into fully functional songs. The backbone to "Ice Cream" started as an idea from contributing bassist
Janel Leppin
and turned into a delicious
Bikini Kill
/cheerleader call-and-response style of song, with non-traditional harmonies. "68 Screen" also uses
Kathleen Hanna
's approach but evolved in a completely different direction from a demo that Daniele had been working on for years. And "Carol," with driving drums that carry Greer's elegant vocals, was inspired from an anecdotal essay Greer read concerning the parallels of being a victim then reliving the crime while seeking justice.
Overall,
The Seduction of Kansas
deals with depressively dark characters and situations but presents them in an entertaining fashion. Which makes sense for Priests, since Greer recently told
Stereogum
, "We want you to be able to dance and nod your head and enjoy the music, and if you want to dig in the concepts, there's more going on."