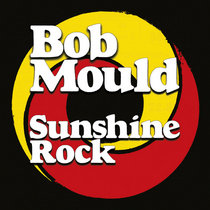 With a title like 
Sunshine Rock,
 one gets the idea that
Bob Mould
's newest album will either be full of tongue-in-cheek irony or legitimately uplifting. Mould made a conscious decision to do the latter, and what he created is the record we all need right now. While many of Mould's contemporaries have found a revitalized success releasing driving, energetic records fueled by criticism of American politics, Mould has recorded his own throwback album based on optimism.
Sure, it may seem easy for him to take a positive stance since he's been living in Germany for the past two years, but Mould also found it personally necessary. It follows on the heels of a trilogy of albums which bore the same theme of sadness and change from the loss of his parents. Like life at the time, most of those songs were bleak and sorrowful.
But not Sunshine Rock. Every song on this banger is a rambunctious, rowdy recall of Mould's particular brand of guitar rock. It starts off with blistering singles "Sunshine Rock" and "What Do You Want Me to Do" – perhaps the catchiest song Mould has written since Sugar's Copper Blue. And it rages nearly non-stop to end with the perfect summary song "Western Sunset;" a power pop, string-laden song featuring gorgeously layered '60's style vocals. There are some slight mood changes with the jangly slacker-rock of "Sin King," and near-religious reflections on both "Lost Faith" and "Final Years," but the rollicking guitars never really quit.
While not the album's best track, "Camp Sunshine" might be the most important song, as it is almost a map to decipher his wishes and solutions for today. At first, he remembers what life was like before everyone felt stressed and hopeless, singing "every day is fun / the weather's warm and everyone is cool." He continues, citing how people changed as times grew frustrating with "some get sick and pass away / others find a different place to play." And then he offers tips on coping and how to stay sane "just enjoy the moments we have / regardless of what comes next / always treat your friends with love and respect / Always be grateful / Always say thank you and please." In the end, he just hopes people will follow him on his journey back to the good old days.
Mould wants everyone to return to a place of happiness and quite literally, sunshiny rock music. This record is his proof that it is possible. So follow Mould's steps to forgetting your troubles, if only for a night, when he plays Union Transfer this Friday, February 15th with Titus Andronicus.