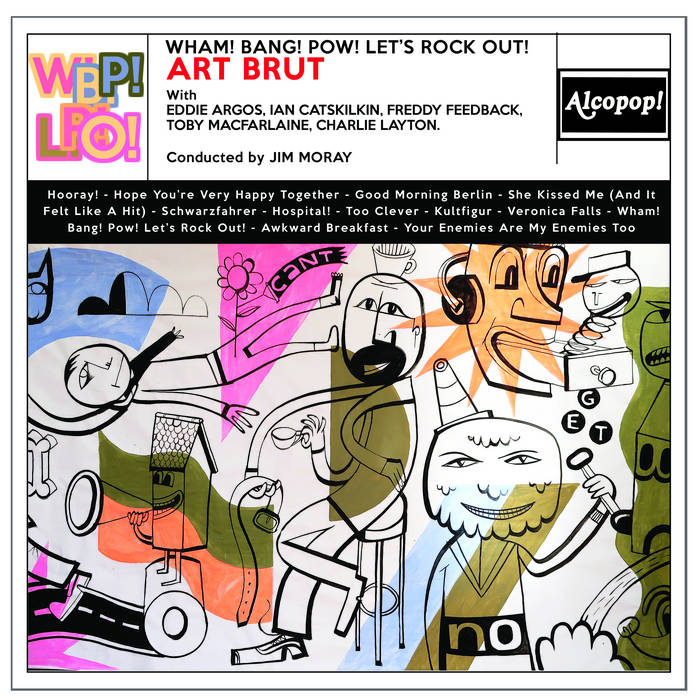 Back in 2005,
Art Brut
announced their existence to the world in the excitable "Formed a Band," where frontman
Eddie Argos
and his pals gleefully shouted "Look at us! We formed a band!" Argos unveiled his musical persona: humor and brutal honesty and drunkenness and nerdiness all rolled into his unique shout-singing. After some missteps on 2011's
Brilliant! Tragic!
, Art Brut is back with a home run of a new album,
Wham! Bang! Pow! Let's Rock Out!
A lot has happened to Argos over the past few years and a good bit of it is documented in these autobiographical songs. It all kicks off with the joyous "Hooray!," a happy post-breakup song (it's "no
Rumours
or
Blood on the Tracks
"). This leads right into "I Hope You're Very Happy Together," though the chorus adds "and if you're not that's even better," giving some bite to the sentiment.
On the flipside, there are the exuberantly happy-in-love tunes "She Kissed Me (And It Felt Like a Hit)" (a title that
Spiritualized
got to first) and "Schwarzfahrer." One of the many major events in Argos's life recently was his hospitalization due to abdominal issues, chronicled in "Hospital!" Attributing it to years of drinking and the rock & roll lifestyle, he vows to get clean (and "join the straight edge scene") and says, "They tried to make me go to rehab and I said, 'That's probably a very good idea!'" However, the backing vocals undermine his good intentions, mocking that "he's gonna be unbearable."
While Art Brut originally wanted to be on
Top of the Pops
, now they're happy to be a "cult band" in "Kultfigur," claiming "it's not about making the audience bigger." Other highlights include the title track, describing the details of a raucous party; "Too Clever," a breakdown of when your brain and mouth don't know how to stay quiet; and "Awkward Breakfast," a detailed snapshot of the morning after a one-night stand.
The lineup of Art Brut slightly shifted between albums but the most notable musical change on the new songs is the horn section on multiple tracks, which add a nice, poppy flourish throughout.
Wham! Bang! Pow! Let's Rock Out!
is a great return to form for Art Brut – an album full of catchy, clever and detail-oriented song-stories that deserves all the
Batman '66
-style onomatopoeia you can throw at it.