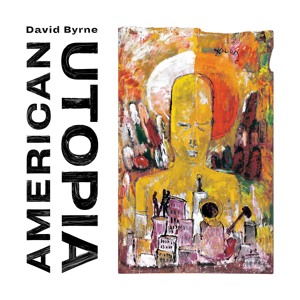 On
The Simpsons
,
Moe Szyslak
once described
David Byrne
as "singer, artist, composer, director,
Talking Head
." He left out "author," "bicycling enthusiast" and a handful of other roles the multi-talented Byrne has filled throughout his career. While he's always juggling projects, Byrne hasn't released a new album since 2012 nor a record solely credited to him since 2004. With
American Utopia
, Byrne digs into his comfort zone of wry observations and low-key grooves.
The fun lead single "Everybody's Coming to My House" is a manifesto for enjoying life in these trying times, inspired by Byrne's
"Reasons to Be Cheerful"
series. Optimism permeates this travelogue culminating in the line "We're only tourists in this life / Only tourists but the view is nice."
Byrne generally has two modes for his songwriting: slightly-detached analysis of the world around him or highly abstract lyrics.
American Utopia
mostly stays in the first category. For example, "Bullet," which manages to be both highly clinical and emotional at the same time (as well as unfortunately timely), as he describes a bullet as it is shot through a human being.
In "Dog's Mind" and "Every Day is a Miracle," Byrne returns to his fascination with other species that goes way back to "Animals" off 1979's
Fear of Music
. One of the best songs on the album, "Every Day is a Miracle" is a look around the world with an animals'-eye-view of human life, i.e. "The Pope don't mean s**t to a dog / And elephants don't read newspapers." Then the chorus brings us around to the yin & yang of life with "every day is a miracle/ every day is an unpaid bill."
American Utopia
musically isn't too far from
Everything That Happens Will Happen Today
, his 2008 collaboration with longtime friend
Brian Eno
. This is unsurprising since Eno worked extensively on the music for this record as well. You'll get the lovely strings, Latin-tinged horns and worldly rhythms that have been a staple of Byrne's solo work for decades. However, the smoothed-out production of the music often seems a bit ornamental and rarely takes hold sonically beyond Byrne and his voice.
American Utopia
doesn't break any new ground or contain many surprises, but new music from one of the most beloved artists of his generation is always welcome.
**Donate $20 or more to Y-Not Radio to receive American Utopia on CD. Click here for details.