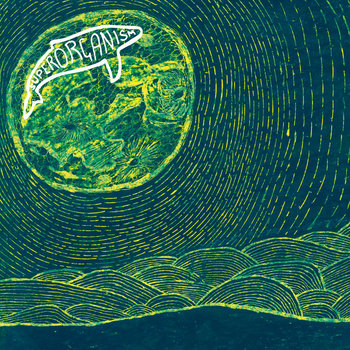 The mysterious collective 
Superorganism
 appeared seemingly out of nowhere last year, but unsurprisingly they emerged directly from the Internet. Teen musician 
Orono Noguchi
 connected with the New Zealand-via-London band 
The Eversons
 online, then in person, which led to the formation of Superorganism. They later added a few more singers into the mix, two of which were from New Zealand and the third, 
Soul
, is South Korean. Eventually, the entire band (sans Soul) moved into a house together in London, bringing this online collaboration into the real world for good.
Our first taste of Superorganism's unique sound was 2017's "Something for Your M.I.N.D." The quirky track immediately brought to mind the post-Odelay! alt-rock acts of the late '90s like Bran Van 3000 or Citizen King. The full Superorganism album definitely keeps up that vibe, perhaps mixed with the feel of deeper album cuts from Gorillaz.
Superorganism is full of squelching synths, oddball samples, lurching beats and distorted vocals, all swirling around Noguchi's vocals. The bouncing second single "Everybody Wants to Be Famous" mocks empty celebrity while riding on cash register samples and wacky keyboards. On the sort-of title track "SPRORGNSM," the song builds to a sing-along manifesto of "I wanna be a superorganism." Another highlight is "The Prawn Song," a wild, wacky tune with a chorus of "I love just being a prawn."
Throughout the album, you'll hear cars crashing, frogs croaking, waves splashing and laser sounds, making Superorganism not that far off at times from the musical styles of Ross Geller on Friends. For a band with a seemingly unlimited imagination, they do go back to some of these same sounds throughout the record. A twangy guitar strum will reappear four songs after you first heard it and the pitch-shifted vocals reappear often, drowning out Noguchi at times.
The record closer "Night Time" ends with a phone alarm going off, Noguchi saying "wake up" and birds chirping. It's the sound of getting out of bed after a wild, confusing night of partying with her friends in Superorganism. With only ten songs in just over a half hour, Superorganism is a short burst of fun and a ray of sunshine peeking through these late winter clouds.
Superorganism plays a sold out Boot & Saddle on April 4.

**Donate $20 or more to Y-Not Radio to receive Superorganism on CD. Click here for details.