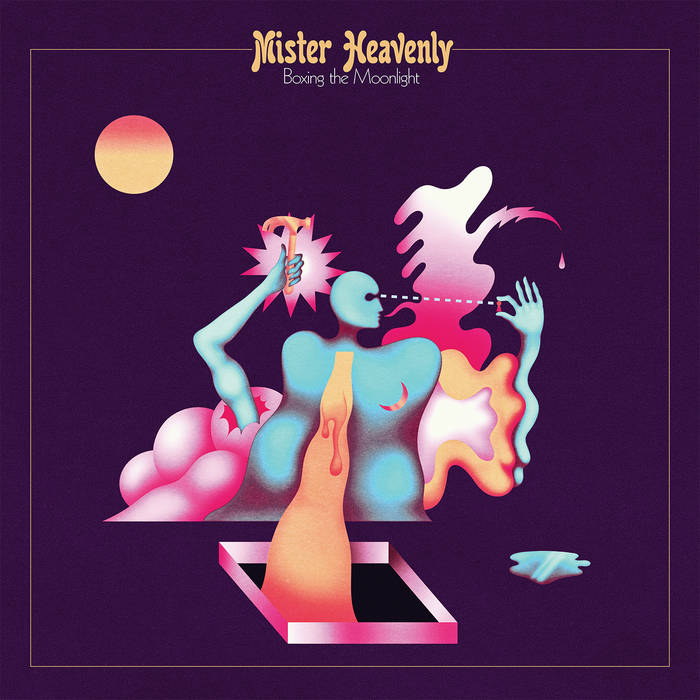 About a year ago,
Ryan Kattner
(aka
Honus Honus
of
Man Man
) casually hinted that he,
Islands / Unicorns
front man
Nicholas Thorburn
and drummer
Joe Plummer
(
Modest Mouse / Shins / Cold War Kids
) were working on a follow up to their band
Mister Heavenly
's only album, 2011's
Out of Love
. This was quite significant, since the just-for-fun supergroup members have their hands in so many pies, a sequel was never a sure thing.
Lucky for us, they found bits of time here and there to piece one together like Frankenstein's monster. What they birthed in
Boxing the Moonlight
is a delightful, exhausting genre romp. By design, it presents a hefty range of styles and tempos, like many a
Faith No More
or
Ween
album. Kattner says, "I personally hate albums where every song sounds the same…People are complicated. People have a lot of different vibes running through them at any given moment."
Some of those vibes are continuations from the first album. The funky yet deliberate, lofty reggae of "Hammer Drop" would have fit on
Out of Love
. Standout single "Beat Down" kicks off the album with an intro echoing "I Am a Hologram" from the first record. And overall, there is a pounding, bouncy piano/keyboard on nearly every track, stitching
Moonlight
together with the same thread.
The real beauty is how the two main cogs in the Mister Heavenly machine smash diverse genres together - sometimes on the same track - and make it work. Thorburn calls the first album more of an emotional record, where
Moonlight
is "much more physical." That can be seen on a multitude of tracks. On "Blue Lines," a slinky
Miami Vice
power guitar section grinds together with a "Bennie & The Jets" breakdown. "George's Garage" starts out with a beautiful, vast
Kraftwerk
soundscape that bleeds into
The
Strokes
once the guitars kick in. Breaking things down are "Crazy Love III," a sentimental slow jam with a touch of funk and squeaky synth, and album ender "Out of Time," a spacey, spooky resurrected droner perfect for Halloween slow dances.
But when Thorburn and Kattner align seamlessly, they create the perfect song. For my buck, that experience is the sensational "Dead Duck." Coked-up carnival new wave meshed with 60's psychedelic garage acid rock creates the perfect drug cocktail. Thorburn has never been as free flowing and delusionally theatrical, and Kattner has never quite summoned the spirit of
Captain Beefheart
like this. This song is the reason you'll want to go see them live on November 5th at
Johnny Brenda's
. Assuming it makes their set list, I can't wait to see how they'll pull it off.