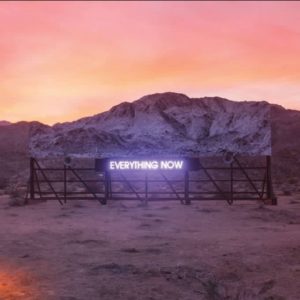 When it comes to going "big" in the indie rock world, no one does it like
Arcade Fire
. After the performance art of 2013's
Reflektor
(remember their crazy late night
NBC
special and the paper-mâché heads?), the band is aiming to mock our modern culture with the ideas surrounding their fifth record,
Everything Now
. Merging all of
U2
's '90s themes into one,
Everything Now
takes shots at information overload and consumerism, intertwining promotional gimmicks, fake social media accounts and music videos with the songs themselves.
But as with many high-concept musical projects, these external themes don't really overwhelm the songwriting itself. The danceable title track tackles these topics most of all, with
Win Butler
singing about how "every room in my house is filled with shit I couldn't live without."
"Signs of Life" feels inspired by
Talking Heads
'
Remain in Light
via
The Clash
's "The Magnificent Seven" Butler's rapping isn't that far from
Joe Strummer
talking about "English pounds and Eskimo pence."
Regine Chassagne
takes the lead on the synthy, shimmering highlight "Electric Blue."
"Creature Comfort" is the most powerful song on the record. Win and Regine's vocal interplay and intensity amp up this empathetic plea to the youth of today. An anti-suicide song doesn't need to be subtle (
Michael Stipe
wanted to make "Everybody Hurts" as straightforward as possible) and "Creature Comfort" certainly isn't. The lyric about a girl who tries to kill herself while listening to Arcade Fire's
Funeral
seems like it could be off-putting self-mythologizing but feels so real that I presume it's a true anecdote the band was aware of. The band revisits the anti-suicide theme on "Good God Damn," compete with the same situation of dying in the bathtub. In the chorus, Butler questions religion before suggesting "Maybe there's a good God, damn, if he made you."
Everything Now
has a few too many cutesy interludes – the album loops around with "Everything_Now (continued)" at the start and finish. The punky "Infinite Content" and country-western parody "Infinite_Content" are back-to-back, restating the punny line that "infinite content" means "we're infinitely content." There's also the mid-record lull of "Peter Pan" and "Chemistry," which feel built around a keyboard's default "reggae" setting. The album finally calms down with the lovely closing tunes "Put Your Money on Me" and "We Don't Deserve Love"
All the best bands should be allowed to evolve and change. When we met Arcade Fire over a decade ago, they poured their hearts out through their lungs while dressed as street urchins. They've become a sleeker unit and Butler's lyrics have unfortunately gotten a bit clunkier, but a band this ambitious was never going to stay cooped up in their neighborhoods forever.
No matter what you think of the new songs, you can't deny that Arcade Fire are always a force to be reckoned with on stage. They return to Philadelphia at the
Wells Fargo Center
on September 17th.
**Donate $15 or more to Y-Not Radio this week to receive a download of Everything Now. Click here for details.