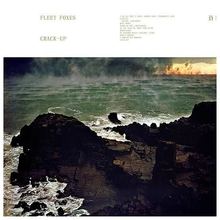 Six years after their last album,
Fleet Foxes
have returned as full-fledged storytellers with their third release,
Crack-Up
.
Frontman Robin Pecknold has made the most of the extended hiatus, evident in his densely-worded lyrics on the album. His writings find themselves in a coveted position: atypical prose that would be scoffed at in spoken-word poetry but blend with the band's unique sound to bring them to life.
From the opening of the first track, "I Am All That I Am/Arroyo Seco/Thumbprint Scar," the album makes use of drastic dynamic differences to accentuate highs and lows of the story. The gentle strumming melody of a lone acoustic guitar sets the tone, clearly building until the dramatic climax as the song proclaims, "But I am all that I need."
Continuing in the same token, "- Naiads, Cassadies" builds on the previous tracks and changes to very haunting, self-reflective lyrics, "Who stole life from you? Who turned you so against you?"
While much of the focus of Crack-Up is on Pecknold's words, sonically the album offers very little variety. The album's 11 songs clock in at just under an hour, which can be a lot to take in of a similar sound. Every song blends into the next with the same musical elements: quietly strummed or picked acoustic guitar (sometimes piano), vocals that are presented in the same fashion, and songs that seem to offer false endings. But maybe that was the point - a bold attempt to show the many stories that can be told in similar ways.
Fleet Foxes return to Philadelphia at The Mann Center on July 31st with Animal Collective opening.