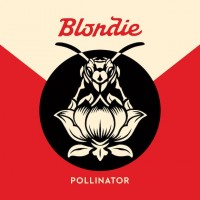 Pollinator
, the 11th studio album from legendary band
Blondie
, takes the listener into new territory with
Debbie Harry
and company. It's interesting to listen to a record populated with team-ups that include
Sia
,
Charli XCX
,
Dave Sitek
(of
TV on the Radio
) and production from
John Congleton
(
St. Vincent
,
Goldfrapp
), when you stop and realize these artists have likely spent most of their lives listening to Blondie. They've all grown up absorbing Harry's vocals and Blondie's take on the overall NYC vibe of the late 70's and early 80's.
The result of these collaborative efforts (which also includes a track co-written by
Johnny Marr
, "My Monster," who also plays guitar on the track) is an album that takes a fresh look at the overall sound of Blondie 2017. Various collaborators delve into Blondie's history of tone, style, and melody, at times hearkening back to the early days of the self-titled 1976 debut,
Parallel Lines
and
Plastic Letters
, while other times going for the pop-disco vibes of the early 80's records. These collaborations are backed up with solid songwriting from both those who partnered with the group as well as from the band itself, especially from newer Blondie member, keyboardist
Matthew Katz-Bohen
, who joined the band in 2008 and contributes several tracks to the album.
Right out of the gates, the first single "Long Time" is solid Blondie melody and wordplay; "dripping from the downpour of your insecure typhoon" might sound forced from other acts, but Harry delivers it smoothly while painting a picture of on-again/off-again romance once again having gone bad, set to a New York City backdrop. The tune "Fun" would have worked in any late 70's disco hall, although the slightly auto-tuned lead vocal is a little distracting. "My Monster" has Johnny Marr written all over it, although the lyrical phrasing doesn't necessarily work for Debbie Harry as well as it would for, say,
Morrissey
, but it's still a decent track regardless.
One of the more unique tracks on the record is the tune "Love Level." Reggae-style horns and an overdriven distorted drum track open the song, which quickly leads into a fairly clean vocal from Debbie and minimalist instrumentation from the band on the whole. It gets a little semi-rap/melody turn via actor/comedian
John Roberts
(best known as the voice of Linda on
Bob's Burgers
). The song is insanely catchy in a way that a number of the cuts from the rest of the album aren't quite as memorable.
Overall, the record is a solid introduction to the music of Blondie for new listeners, especially those who dig a more indie vibe to their music choices. Hardcore Blondie fans will enjoy the record as well as the experiment it is, even the moments when it falters.
Blondie comes to Philly this summer on tour with
Garbage
; they'll hit the stage at
The Mann Center
on August 8th.
**Donate $20 or more to Y-Not Radio this week to receive a copy of Pollinator on CD. Click here for details.