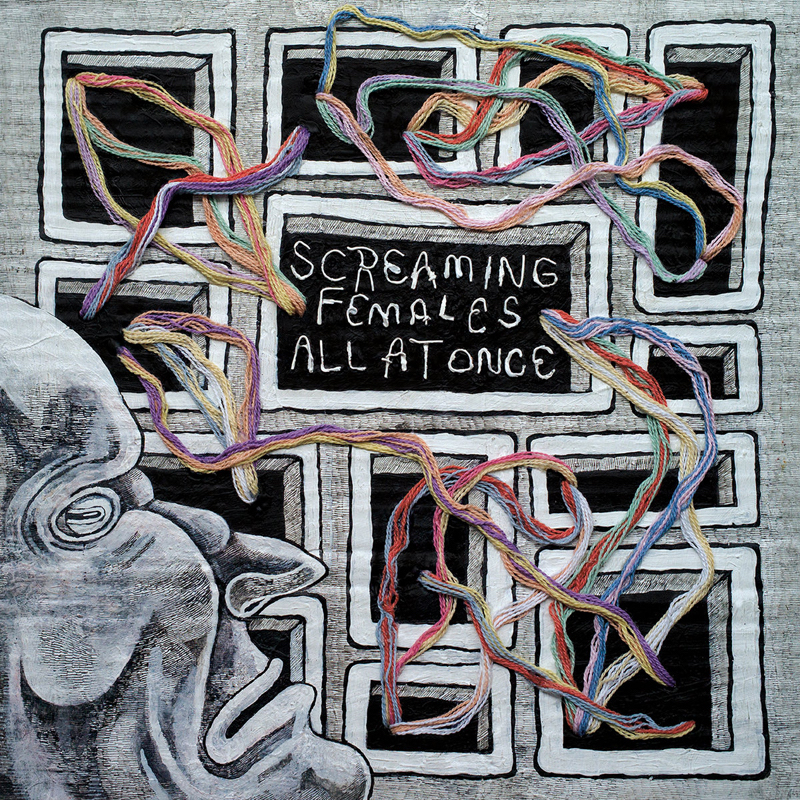 New Jersey punk trio
Screaming Females
seldom get enough credit for their dynamism as a group. Even in their rawest, roughest sounding moments, this was a group that knew how to play with structure and composition, however subtly, with some of the tightest interplay of any current group in rock music. That dynamism helped them to funnel the blunter approach of their 2012 opus
Ugly
into something approaching accessibility with 2015's rollicking
Rose Mountain
. Swapping out producer
Steve Albini
for
Matt Bayles
probably helped a little here too. Bayles is back with the band for
All at Once
, a record that goes even further in adding a capital "P" pop prefix to their punk qualifier while continuing to let them expand and explore what makes them so special.
Opener "Glass House" wastes no time weaving a thick connecting thread to the previous album with a thundering riff that manages to out-metal Metallica. From there, the band promptly hits the accelerator with the scorching "Black Moon" and what's already the poppiest, prettiest (!) rocker of their career, "I'll Make You Sorry." "Am I losing faith in my own anger?" Marissa Paternoster ponders over a pogoing beat that deserves to kick off countless party playlists this year, before the chorus shows everyone that she just learned how to convey it even more incisively. It's nearly dethroned from its insta-iconic status by "Soft Domination" a short while later, a great, grooving number that improves on its 2015 sibling "Empty Head" with choral flourishes, vulnerable yet commanding lyrics, and a drumming assist from none other than Fugazi's Brendan Canty.
His assist is just that, however, as the rhythmic heft of that song and the rest of the album can only be attributed to Jared Dougherty and King Mike alone. Meanwhile, Marissa's guitar playing remains as majestic yet meticulous as ever, even as she continues to demonstrate remarkable restraint in songs like the shuffling "End of My Bloodline" and alluringly angular "Dirt," which could almost past for a Siouxsie and the Banshees B-side. Her lyrics follow suit, less direct in their prose but even more evocative, leaving them open to any myriad of interpretations.
All of these elements combine to make All at Once an album that not only rewards repeat listens, but benefits from full front-to-back attention, hence its title. With each spin providing new highlights, new turns of phrase, and new sonic embellishments, another fitting, winking name for it might be "Again and Again."
Screaming Females play Union Transfer on April 5th.