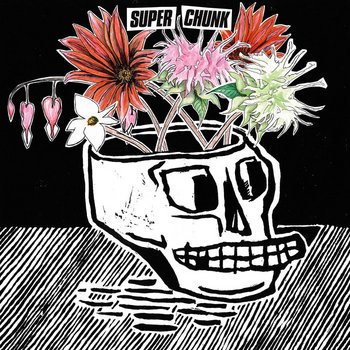 At the turn of the century,
Superchunk
seemed to be on the same ill-fated path as other bands who began their career burning so intensely and brightly. Their energetic, lo-fi fuzzy & buzzy rock was slowly replaced by stripped-down growth and experimentation; a trajectory that seemed to counter their initial foundation. But 2010 and 2013 brought a rebooted Superchunk to the stage, with all of the youthful punk anxiousness and ferocity of old, but in a cleaner, more accessible sound.
What A Time to Be Alive
, their 11th album, continues that style without skipping a beat. The title track rings out with urgent guitars, power-pop hooky vocals, and a
Dinosaur Jr
-style solo. The all-out sprints of "Lost My Brain," "Dead Photographers," and "Cloud of Hate" keep the listener intensely energized, while their usages of guitars to emulate warning alarms on "Break the Glass" and "Bad Choices" alludes to a more important, pressing matter. As fun as the album is, it was meant to be a cathartic release, examining the current political climate and how insane / wrong everything seems in connection. Or, as singer/guitarist
Mac McCaughan
put it, "[It's] about a pretty dire and depressing situation but hopefully not a record that is dire and depressing to listen to."
The lyrics speak for themselves, and read like an unapologetic time-stamped journal of poetry, covering the four months after the 2016 election. It tries to cope with election night shock: "I don't know / and I can't explain / lost my heart / and I lost my brain," while having to deal with an out of touch, selfish government: "All these old men won't die too soon / flesh balloons still waving their arms around." It also tries to figure out people who voted red on "All for You," aggressively calling them out to fight. But the bottom line statement is to simply call out the administration. "Bad Choices" forecasts "But all your bad choices / are gonna cause suffering." The opening track sarcastically laments "The scum, the shame, the fucking lies / Oh what a time to be alive." And in its entirety, "Cloud of Hate" is filled with rage-inducing poetic nuggets like "You broke the world that you're not long for" and "You have a dream / a bloody nightmare / for every human that's not you."
It is not the first album that has come out since the political climate changed.
Juliana Hatfield's
2017 album
Pussycat
was a cathartic reaction to the election, recorded with a similar passion.
What A Time to Be Alive,
however
,
speaks with a grander sweep, musically capturing anxiety, frustration and urgency, while still trying to have fun. McCaugan said, "I think that's important to not be completely bummed out about everything all the time." To that degree, the band invited friends to contribute to the album, creating a community of sympathetic and like-minded folks. Two guests are label-mates
Stephin Merritt
(
Magnetic Fields
) and
Katie Crutchfield
(
Waxahatchee
), and they contribute warm, harmonizing vocals on the
Pixies
-like single "Erasure." Superchunk is keeping the community feeling going into their tour, as they are playing alongside
Allison Crutchfield's
(Katie's sister) resurrected band,
Swearin'
(whose style owes a lot to Superchunk) at
Union Transfer
on April 4th. So if you are feeling down and defenseless, isolated or alone, seeing these songs belted out live might just be the lift you need.